Just a bunch of random thoughts about being a mom to two little boys, finding time for myself that doesn't include drooling on the couch at the end of the day, and my constant inner struggle with "consistent" parenting. Because if there's one thing I know I'm good at, it's being Consistently Inconsistent...or as I like to say: Spontaneous!
Tuesday, October 25, 2011
Post-It-Note-Tuesday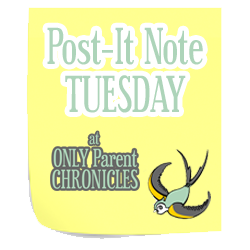 I'm linking up for the first time with Kristin over at
Only Parent Chronicles
and her Post-It-Note Tuesday...just getting in under the wire.
Posted by

Mommy Inconsistent
at 11:38 p.m.