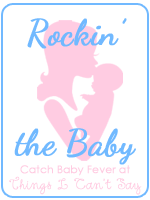 Okay, so tonight I'm linking up with Shell over at
Things I Can't Say
. This is my first ever link-up so hopefully I do it right. I'm linking up pics of the boys when they were babies...a fun walk down memory lane especially since Big T just turned the big 5!
Here's Big T at just over 2 months old in 2006. I thought the 'lil tuque was so adorable until he actually became a milk junkie and then I just thought it was all my fault 'cuz I bought that hat. Just another thing to feel that new-mom guilt over...haha!
Big T has the most beautiful big blue eyes. Of course I'm a wee bit biased. You can't read it, but his t-shirt said "Ladies Man" and I wouldn't be a bit surprised if that is exactly what he becomes with those eyes. But I guess since I'm his mom, my opinion doesn't count.
Aaaah, I love this one of my Little K. He's about 6 months old here in 2009 and we called him "The Tongue". Guess we could have also called him the Michelin baby. If the rolls fit ...
I couldn't resist posting this pic of Little K...it makes me laugh. Such a chub.
So there you have it...my Rockin' the Baby pics. Be sure to check out
Shell's
blog to get your adorable baby picture fix.